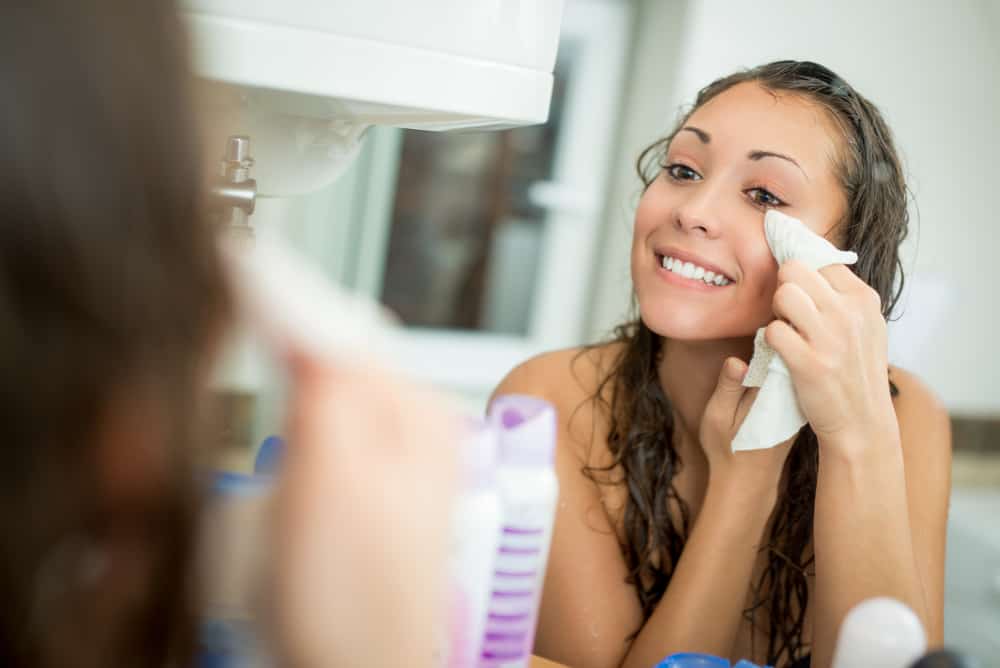 We all know that the worst part about makeup is the struggle to remove it at the end of the day. After a long shift at work, a night out with friends, or even a low-glam day at home, the last thing you want to do is stand in front of a mirror, wiping away a bomb look, or even worse: scrubbing your skin raw.
Investing in a good eye makeup remover is key to keeping your skin healthy. A good remover won't just make your nightly routine simpler; it will work with you to keep your skin fresh, healthy, and youthful. The good news is, as the makeup industry grows, new products are being created, and finding the perfect remover for you is easier than ever.
Must-Know Info About Eye Makeup Remover
Eye makeup remover has come a long way since the years of scrubbing with soap and water. Now there are variations of eye makeup removers for different kinds of makeup, skin, and personal tastes. Eye makeup remover is usually a gel or liquid you can use to protect your skin while removing your makeup. Some people swear by their own special remedies, but baby oil and isopropyl alcohol aren't for everyone, and a good eye makeup remover can save you time and stress by simplifying your end-of-day self-care.
Eye Makeup Remover vs. Soap
Have you ever been scrubbing away at your eyeliner and had stinging soap get in your eye? Not only is soap a pain to work with, it's harsh on your skin, leaves a residue, and sometimes doesn't even work. Eye makeup remover is designed specifically to break down long-lasting makeup. We may want our makeup to last for hours without smudging or fading, but we also want it to clean up quickly when we're ready to call it a night.
Eye makeup remover is available in a variety of formulas aimed at breaking down makeup without harming the skin. Alkanes are the most common ingredients, as they help dissolve the makeup. Other removers use oils or alcohols to break down the makeup. Makeup is designed to bond with the skin and cling to your skin cells. Eye makeup remover is carefully formulated by cosmetics chemists to break that bond and help the makeup come off. We'll go a bit more in-depth on this topic in our makeup science guide.
In our product listing, we'll let you know what kind of chemistry each remover uses and how intense its cleansing action will be.
Skin Types
Oily skin, dry skin, T-zone skin… Eye makeup remover isn't one size fits all, and any skin can become sensitive skin with the wrong eye makeup remover. Check out our skin-type discussion below to learn more about your own skin type. In our listing, we'll identify which skin type each product is best for, so you can pick out the perfect cleanser to avoid breakouts, itchiness, dry eyes, or flakiness.
Skin Care
The best remover shouldn't just be designed to work with your skin; it should enhance it, heal it, and rejuvenate it. Skin is a fragile thing, and taking care of it is important if you plan to feel and look your best for years to come. We've chosen products that won't be harsh on your skin, and we'll highlight any extra features that can keep your skin healthy and glowing. Even better, we'll also discuss how best to use eye makeup remover to avoid breakouts and sensitivity in our full guide, complete with pro-tips and cosmetic science facts.
Clean-Up Process
Are you a shower-it-off kind of makeup wearer? A sink-and-mirror person? A mid-traffic skin care guru? No matter when and where you like to get to work, there are great options for you. In our list, we'll make sure to let you know what kind of mess you can expect and how best to use each eye makeup remover for maximum effect and cleansing power.
Smart Buyer Facts
Any time you plan to put a product on your face, you'll want to carefully vet details and practices. We'll make sure to note if these products are vegan, cruelty-free, or have special, consumer-friendly features!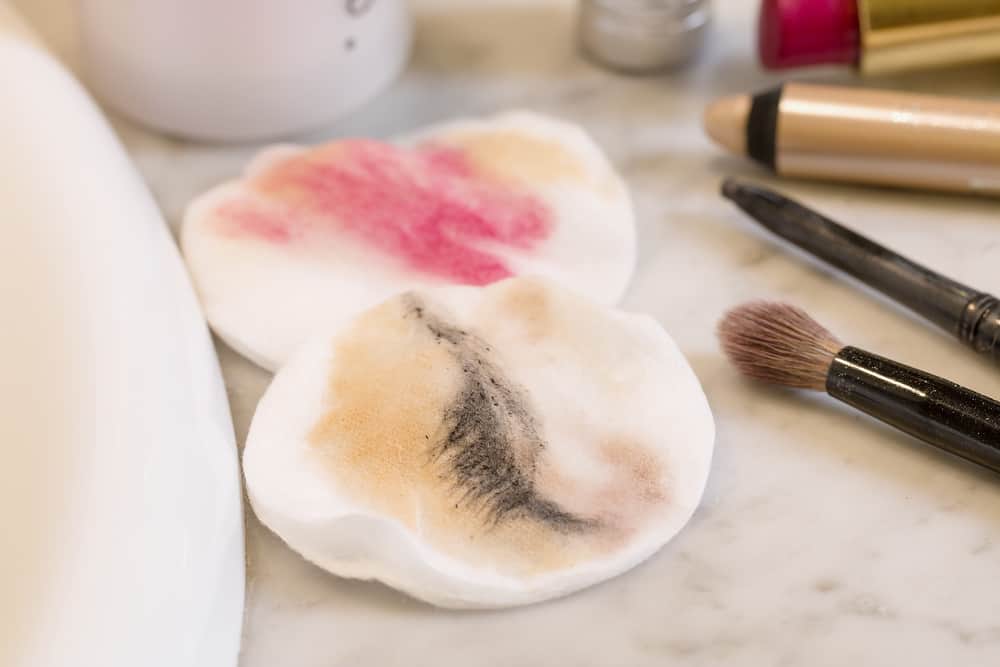 Now that you know exactly what to consider, let's check out the best eye makeup removers on the market.
Top 10 Best Eye Makeup Removers 2023
1. Best Overall Eye Makeup Remover Neutrogena Oil-Free Makeup Remover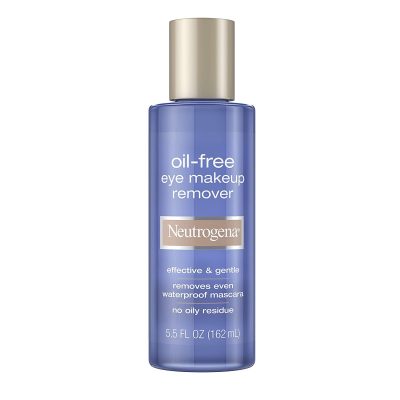 Why we like it: Neutrogena knocks it out of the park with an affordable, effective eye makeup remover that cools the skin and avoids acne-causing oils.
Editor's Rating:
Quick Facts
Key Ingredients: Aloe Vera, Cucumber Extract
Skin Type: Normal
Effectiveness
This remover is highly effective. For regular makeup, it can easily remove a layer in one swipe, cutting down on swab use and scrubbing. Waterproof makeup may need a little more attention, but this remover still gets the job done. Neutrogena Oil-Free Makeup Remover is gentle on the skin but tough on makeup for an easy, end-of-day skin care option.
Skin Care
This eye makeup remover contains aloe vera and cucumber extract to soothe the skin after cleansing. Its oil-free formula avoids over-moisturizing the face or clogging pores, and leaves the eyes feeling conditioned and smooth. The formula is specifically formulated for eye makeup and is a non-irritant to the eyes.
Clean Up
All you need to get started with this remover is a cotton round or towelette. One of the benefits of oil-free eye makeup remover is that you don't need to use extra products on your face after using it. This makeup uses a silicone formula to achieve the silkiness of an oil-based remover, so you may want to wipe your face with warm water or a damp cloth afterwards.
Smart Buyer Facts
This remover is ophthalmologist and dermatologist approved to be safe for contact wearers!
Pros
Neutral formula is compatible with any skin type
Aloe vera and cucumber extract keep the skin feeling cool
Oil-free formula locks in moisture without clogging pores
Ophthalmologist-tested for eye safety
Easy clean-up
Cons
Takes extra effort to remove waterproof eye makeup
2. Best Premium Eye Makeup Remover Tatcha 2-in-1 Camellia Cleansing Oil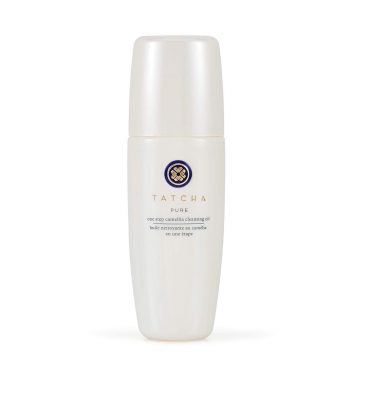 Why we like it: Tatcha's Japanese skin care line offers premium, natural ingredients, anti-aging properties and intensive skin-healing care in one, highly effective solution that's worth the price.
Editor's Rating:
Quick Facts
Key Ingredients: Camellia Oil, Uji Green Tea, Okinawa Mozuku Algae, Akita Rice
Skin Type: Normal
Intensity
This eye makeup remover is a step up in both price and quality from our Best Overall Pick, and it earns its position as our premium eye makeup remover. It may be expensive, but it's effective enough that you won't need to replace it any time soon. It only takes one pump to remove an entire face of makeup, including heavy-duty mascara, jet-black eyeliner, and waterproof eye makeup.
Skin Care
Perhaps the best thing about this eye makeup remover is that it works to nourish and heal the skin without catering only to one skin type. The camellia oil emulsifies completely, meaning that it will nourish dry skin without lingering on already oily skin. Camellia oil is appreciated by cosmetics gurus for its moisturizing effects and antioxidant activity on multiple skin types. It contains more oleic acid that other botanical oils, and is rich in vitamins A, B, D and E, as well as skin-healing Omegas 3, 6, and 9. A balanced skin biome is serious business, and this makeup remover meets the challenge.
Tatcha's formula includes uji green tea, Okinawa mozuku algae, and akita rice, which are referred to in Japan as the Hadasei-3 complex, widely loved for their anti-aging benefits. Even better, Tatcha Cleansing Oil is formulated without mineral oil, synthetic fragrances, sulfate detergents, parabens, urea, DEA, TEA or phthalates, meaning that the cleansing action of this oil is entirely natural and won't strip your skin.
Clean Up
This oil is meant to be applied on dry skin, but to remove the oil itself, you must rinse your face and hands with warm water. Apply one to two pumps and massage into the skin, then either hop in the shower or rinse your face at the sink with warm water. Your face will be fresh and makeup-free.
Smart Buyer Facts
You may have to rinse your face, but there's no ethical clean-up involved with this product: this eye makeup remover is cruelty-free and vegan-friendly.
Pros
Best waterproof eye makeup remover
Camellia oil balances out any skin type
Hadasei-3 complex offers anti-aging benefits
Rich in oleic acid, vitamins, and omegas to nourish the skin
Cruelty-free and vegan
Cons
Expensive
Must be rinsed off after use
3. Best Eye Makeup Remover Wipe Simple Face Wipes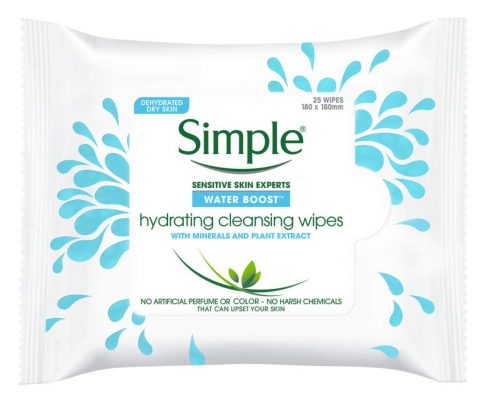 Why we like it: These convenient wipes are perfect to stash in your bag for on-the-go makeup removal. They're also a simple alternative to more elaborate makeup removal routines for those late nights when you're tempted to sleep in your mascara.
Editor's Rating:
Quick Facts
Extra Ingredients: Plant Extracts
Skin Type: Normal
Intensity
These makeup wipes are tough enough to remove waterproof mascara with a little work, and one wipe is strong enough to take care of makeup on both eyes. They aren't quite as strong as liquid removers are, but any makeup wipe is going to be less intense than using a cotton ball and remover solution.
The Cleansing Face Wipes offer the strongest formula, followed by Exfoliating Face Wipes. The other two options, oil-balancing and hydrating, are effective, but not quite as tough on waterproof makeup and dark eyeliners.
Skin Care
One of the reasons we love Simple Face Wipes so much is because they give you so many skin care options. These wipes offer hydrating, cleansing, exfoliating, and oil-balancing versions, so you can select the perfect blend for your skin care needs.
For anyone with dry skin, the hydrating wipes will leave your face feeling conditioned and moisturized. If you're dealing with tough dead skin or clogged pores, the exfoliating wipes are a great option. The cleansing wipes are the strongest for removing makeup, and the oil-balancing wipes can help reset your facial oils after using drying cosmetics or washes.
Simple Face Wipes are also hypoallergenic and all except the exfoliating wipes are great for sensitive skin. They are free of irritating perfumes and scents, and there are options with micellar water for anyone looking to avoid chemical removers.
Clean Up
The draw for any good makeup wipe is how easy they are to use. Keeping a pack in your car, your purse, or next to your bed can make taking care of your skin simple and convenient. These wipes are a great option for frequent travelers, as they can be used on the go, and are generally considered airport safe.
Smart Buyer Facts
These wipes cannot be flushed, but you can easily dispose of them at home or in a trash can.
Pros
Convenient
Wide variety of skin care options
Effective on most makeup
Travel-safe
Cons
Not quite as effective as liquid removers
4. Best Cleansing Eye Makeup Remover Olay 5-in-1 Deeply Purifying Daily Facials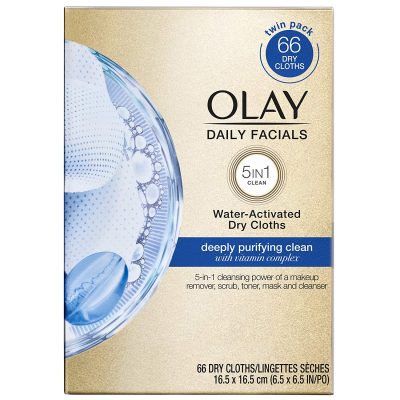 Why we like it: Olay's Daily Facials offer a combination of convenience and satisfying skin care with these water-activated wipes.
Editor's Rating:
Quick Facts
Key Ingredients: Salicylic Acid, Witch Hazel, Vitamin E
Skin Type: Oily, Combination
Intensity
Olay's facial wipes offer deep cleansing action and exfoliation in one product. The wipes lather up nicely and remove even waterproof makeup. One side of the wipe is gently textured, and the other is smooth for a personalized experience based on how much makeup you need to remove. The Deeply Purifying variety offers the most cleansing action, but all Olay 5-in-1 Daily Facial wipes can keep up with most tough makeup.
Skin Care
The Deeply Purifying wipes are ideal for oily and combination skin, but Olay 5-in-1 wipes are also available in hydrating, nourishing, and gentle options so you can find a formula that works with your skin type. Be aware however, that using the wrong wipe for your skin type can lead to serious acne breakouts and sensitive skin.
All their wipes have a smooth and an exfoliating texture on their wipes, so you can remove dead skin and build-up in the pores with the exfoliating side or be gentle with your skin using the smooth side.
Its 5-in-1 capabilities mean it removes makeup, exfoliates the skin with a scrub, tones it to prevent acne and dirt build up, cools the skin like a mask, and cleanses it with salicylic acid. Its claims are a little over the top: these wipes do not offer a premium skin care experience and cannot compete with a full skin care routine that uses separate steps to cleanse, tone, and apply facial masks. However, they are a great all-in-one option if you want to take care of your skin but lack the time or space around the sink.
Clean Up
These wipes are water activated, so you will need a sink, but they offer eye makeup remover and cleansing in one product.
Smart Buyer Facts
These makeup wipes are soap-free and include a variety of natural ingredients, but they are not guaranteed cruelty-free.
Pros
Combines the qualities of an eye makeup remover, facial scrub, toner, face mask, and cleanser in one product
Several varieties for specific skin types
Water-activated lather for a satisfying experience
Convenient and low mess
Cons
Cannot compare with separately using all 5 products
May cause breakouts if used with the wrong skin type
5. Best Budget Eye Makeup Remover Garnier SkinActive Micellar Water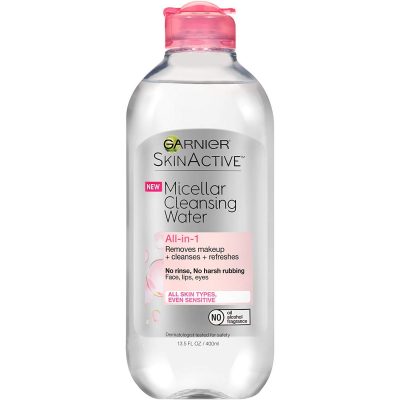 Why we like it: This micellar water is a low-mess gentle option that feels more natural than other, thicker removers and offers the best bang for your buck!
Editor's Rating:
Quick Facts
Key Ingredients: Micelles
Skin Type: Normal
Intensity
Garnier SkinActive uses micelle technology to lift makeup from the skin. Micellar water is water with lipid molecules in it that attract the makeup molecules off your skin, lifting them and rinsing them away. Micelle technology is a great way to remove makeup without using harsh or unnatural-feeling chemicals and stripping the skin of vital oils. Garnier SkinActive All-in-One can easily handle most makeup, but it may have some trouble with dark eyeliner. Garnier also sells micellar water designed specifically for waterproof makeup that offers a more intense formula than their all-in-one variety.
Skin Care
Micellar water avoids the drying effect of traditional eye makeup removers. The gentle properties of micellar water are ideal for anyone with sensitive skin or who needs a eye makeup remover that won't imbalance a skin care routine with extra oil or chemicals. The All-in-1 Micellar Water is gentle and neutral on skin, but Garnier also offers eye makeup removers with a mattifying formula for oily skin or a hydrating formula for dry skin.
Clean Up
Because micellar water doesn't have an oil or silicon base, you don't need to rinse your face after removing your makeup. This makes it ideal for late nights when you just want to remove your makeup without mess, or for makeup adjustments on the go. This also makes it perfect for refreshing or touching up only one aspect of your makeup, rather than re-doing your entire face. Simply pour onto a cotton ball, press the remover to your skin for a few seconds, then wipe away—no rubbing or scrubbing required. However, it can leave an oily or "sticky" feeling behind.
Pro-tip: Pour a little micellar water onto a Q-Tip to spot-correct a makeup look if your eyeliner goes off course or your mascara misbehaves.
Smart Buyer Facts
Garnier SkinActive is made in the USA.
Pros
Gentle on skin
Offered in all-in-one, waterproof, mattifying, and hydrating varieties
No oil or silicon in the formula
Great for spot-correcting
Convenient for out-and-about makeup fixes
Cons
May not work well on dark eyeliner
May leave skin with an oily feeling
6. Best Dry Skin Eye Makeup Remover Eye Love Moisturizing Makeup Remover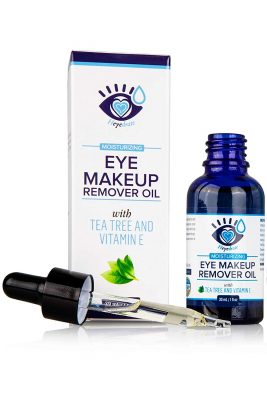 Why we like it: For anyone with painful, dry eyes that prevent them from using harsh cosmetics, this remover offers powerful relief and soothing action combined with a gentle eye makeup remover for sensitive, dry skin.
Editor's Rating:
Quick Facts
Extra Ingredients: Grapeseed Oil, Jojoba Oil, Tea Tree Oil, Vitamin E
Skin Type: Dry
Intensity
This eye makeup remover's strength is less in how effective it is at removing makeup than its gentleness on painful skin, but it is still an effective eye makeup remover. As an oil-based remover, it uses all-natural ingredients to lift makeup particles off the skin without scrubbing. It may seem pricy, but it only takes a few drops on a cotton ball to remove thick layers of makeup.
Skin Care
Where this eye makeup remover shines is in its serious focus on skin care. Dry skin is reactive and prone to inflammation. Both applying makeup and removing it can be painful if the product is too harsh or heavy on your skin. Not only is this remover entirely natural, it also soothes angry skin, and is a great resource for anyone dealing with blepharitis, demodex mites, styes, and dry eyes. It moisturizes and conditions the skin anywhere it is dry or cracked and is infused with Vitamin E to cut down on free radicals and keep the skin youthful and glowing.
Clean Up
This eye makeup remover is both a remover and a conditioner, making it convenient and low mess. The dropper attachment makes it easy to apply the perfect amount to a cotton ball, and as it is all natural, there is no need to rinse with additional products after use.
Smart Buyer Facts
Ethically and morally, this product is untarnished. It is vegan, cruelty-free, and made by hand in South Carolina with non-GMO ingredients.
Pros
Provides intense relief for dry eyes
Designed specifically to address skin care woes and pain
All-natural, vegan, and cruelty-free
Uses natural oils for a conditioning effect
Cons
Not as effective as most other eye makeup removers
7. Best Sensitive Skin Eye Makeup Remover Mary Kay Oil-Free Makeup Remover

Why we like it: This neutral, balanced eye makeup remover is tough on makeup, but gentle on skin and designed to avoid painful breakouts or skin reactions.
Editor's Rating:
Quick Facts
Key Ingredients: Silicone Solvent and Poloxamer Emollient
Skin Type: Normal, Combination
Intensity
Mary Kay has a long history of high-quality makeup, and this makeup earns its position as our favorite sensitive skin eye makeup remover. It only takes a few drops to take off a full face of makeup, even waterproof mascara, and its no-frills formula cuts down on the possibility of a bad reaction. This specific remover is quite similar to our Best Overall option, Neutrogena Oil-Free Remover, but offers a more gentle formula to keep the skin balanced.
Skin Care
This eye makeup remover is simple and gentle. To avoid irritating the skin, it sticks to the basics, avoiding potentially irritating fragrances, harsh cleansers, or pore-clogging oils. The silicone base provides a silky texture without the greasy residue of an oil-based remover.
Because of its neutral formula, it's a great option for anyone with combination skin. The same remover can be used in both the oily T-Zone and dry or flaky areas of the face, and it won't disrupt your skin's oil-balance.
Clean Up
This remover will need to be used near a sink. While it isn't greasy or irritating, you will need to rinse your face after using this remover. You will also need to shake the product well before using so that its biphasic ingredients will mix correctly.
Smart Buyer Facts
Mary Kay can also be purchased from a distributor; however, when purchasing Mary Kay products from a non-major retailer, you are more at risk of scams.
Pros
Does not disturb oil-balance on skin
Neutral formula is great for combination skin
No irritating fragrances
Effective at removing waterproof makeup
Cons
No extra skin care effects
Not ideal for on-the-go face care
8. Best Eye Makeup Remover for Oily Skin La Roche-Posay Face Wash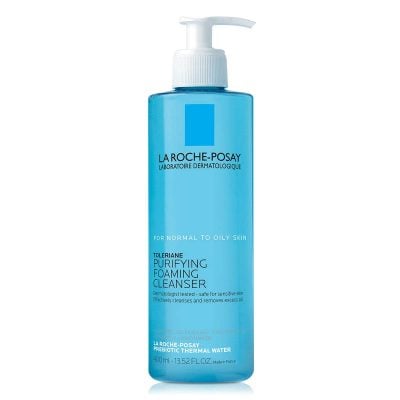 Why we like it: This eye makeup remover protects oily skin from excessive drying out while cleansing pores of makeup and dirt.
Editor's Rating:
Quick Facts
Key Ingredients: Prebiotic Thermal Water, Glycerin, Niacinamide, Ceramide-3
Skin Type: Oily
Intensity
This eye makeup remover uses prebiotic thermal water and glycerin for a foaming eye makeup remover that removes most makeup without aggravating sensitive, oily skin. It isn't as powerful as other options on our list and isn't very effective on waterproof makeup, but it can keep up with Olay's 5-in-1 wipes at removing makeup.
Skin Care
This remover is at its best when used to balance and protect oily skin. Some eye makeup removers designed for oily skin are designed with the incorrect assumption that oily skin needs products to dry it out. In fact, oily skin is at its healthiest when care is taken to replenish stripped skin and balance the pH. La Roche Posay Face Wash removes excess oil and cleanses the pores of dirt and impurities, then attends to the needs of oily skin by rehydrating the lipids in the skin with Ceramide-3 and locking the pores to seal in moisture.
Pro Tip: Even for oily skin, it's important to moisturize. Apply a gentle moisturizer after using this face wash to hydrate the skin.
Clean Up
This face wash is best used at the sink or in the shower. Because it is foamy and lathers up, it offers a satisfying and thorough cleansing experience without scrubbing. Take care not to spill water on it, however, as the pump may leak, allowing the face wash to be diluted.
Smart Buyer Facts
La Roche Posay takes care to avoid harsh chemicals or potentially aggravating ingredients. This face wash is soap-free, sulfate-free, oil-free, fragrance-free, allergy-tested, and paraben-free. Dermatologists have approved it as non-comedogenic, so you don't have to worry about clogged or blocked pores.
Pros
Ideal for oily skin
Gentle formula free of fragrances, soap, oil, sulfates, and parabens
Ceramide-3 replenishes the lipids in the face for balanced skin
Its pH-balancing formula prevents acne
Cons
Less intense remover
Pump is poorly designed
9. Best Natural Eye Makeup Remover Nature Lush Makeup Remover

Why we like it: This fully plant-based make-up offers sensitive skin eye makeup remover with natural, skin-cleansing ingredients for an all-natural, fresh face.
Editor's Rating:
Quick Facts
Key Ingredients: Glycerin (Plant-derived), Cucumber Extract, Aloe Vera, Olive Extract
Skin Type: Normal, Sensitive
Intensity
This eye makeup remover is effective on basic makeup but may have some difficulty cutting through darker dyes and waterproof makeup. Because it is oil-free and uses natural ingredients, it relies on glycerin to dissolve the makeup.
Pro Tip: Instead of scrubbing, allow the cotton ball to rest on your eyelid for 10 to 15 seconds to more thoroughly dissolve tough makeup.
Skin Care
This all-natural makeup is gently moisturizing and ideal for sensitive skin. It hydrates without adding excess oil to the face, and the cucumber extract and aloe vera cool and soothe irritated or rough skin. It is fragrance-free, cutting down on the risk of an allergic reaction.
Clean Up
This remover doesn't need to be rinsed after application, making this a great, one-step eye makeup remover. A few drops on a cotton ball will remove most makeup and leave the skin feeling soft and moisturized.
Smart Buyer Facts
This makeup is derived from entirely natural plant sources and made in Greece. It is free of parabens, paraffin oil, silicone, & mineral oil. However, the price is higher than some other options.
Pros
Plant-based and natural
Gentle on sensitize skin
Cucumber extract and aloe vera condition and rejuvenate the skin.
Moisturizes without causing oil build-up
Cons
Not as effective as other removers
Not budget-friendly
10. Best Error-Correcting Eye Makeup Remover e.l.f. Makeup Remover Pen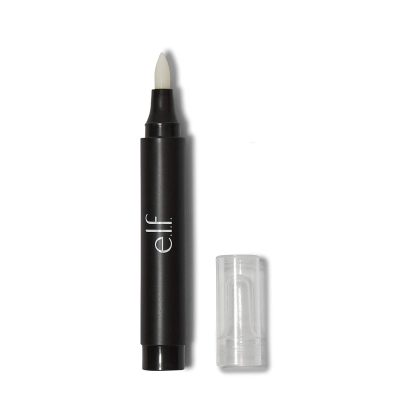 Why we like it: This eye makeup remover pen can help you correct errors and boast a precise, crisp look both during application and while out and about.
Editor's Rating:
Quick Facts
Key Ingredients: Isododecane, Cyclomethicone, Chamomile Extract, Cucumber Extract
Skin Type: Normal
Intensity
Whether you're a makeup master or new to the game, we're all bound to make mistakes. This eye makeup remover pen is a great way to sharpen up eyeliner, clean mascara residue, and tighten borders of bright colors. It cuts easily through eye makeup, but you will need to store it upside down and use it sparingly. Don't try to take off a whole face of makeup with this product.
Skin Care
This remover doesn't aggravate the skin and includes chamomile and cucumber extract to cool the skin. It's a great way of correcting makeup without having to put your face through the ordeal of scrubbing and starting over.
Clean Up
Makeup can be reapplied immediately after using this pen, making it great for touching up eye makeup while out and about or for starting out with a clean, polished look.
Smart Buyer Facts
This eye makeup remover pen is vegan, cruelty-free, and made without phthalates, parabens, nonylphenol, ethoxylates, triclosan, triclocarban, and hydroquinone.
Pros
Convenient for on the go corrections
Great in-process tool
Vegan and cruelty-free
No clean-up required
Eye Makeup Remover and You: A Complete Guide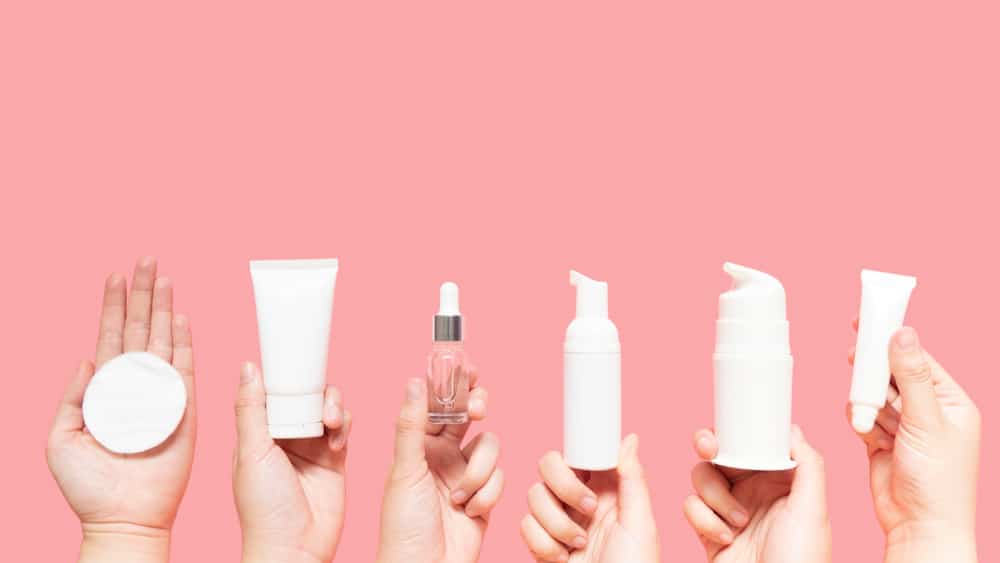 When you're deciding what eye makeup remover to buy, the sheer variety of products can make the search a confusing, and frustrating, process of elimination. Reviews can leave you more confused than ever with some users claiming the remover is little more than scented water, and others raving about its ability to take off waterproof mascara. You may be worried about buying knockoffs or getting an item that will cause a serious breakout.
Your concerns are warranted, so we've gathered together all the information you need to make an informed choice about your skin care products. Read on to learn about your skin type, how eye makeup remover works, what chemicals to watch out for, and great techniques to get the most out of your eye makeup remover.
Knowing Your Skin Type and Why it Matters
When it comes to skin type, you may not think about what kind of skin you have and how that affects your skin care needs. Or, you might have extremely sensitive skin and be deeply concerned about protecting and rejuvenating your skin. Whichever camp you fall into, knowing your skin type can be extremely helpful in both choosing your remover and deciding what other items you may need to supplement with.
Sensitive Skin
Sensitive or reactive skin is usually marked by irritation, frequent breakouts, itchiness, or tightness. If you have sensitive skin, you may find fragrances, harsh chemicals, excessive oils, plastics, parabens, or certain extracts irritants for your skin. Both Mary Kay and Nature Lush are great options for anyone with sensitive skin, and use low-irritant formulas.
You may need to try out many different hypoallergenic formulas to find the right product for you. It may be best to avoid exfoliating products or products that are particularly strong removers, as these may aggravate the skin.
Dry Skin
If you have dry skin, it may feel tight, flaky, ashy, or rough to the touch. Generally, it will feel sensitive to the touch, and using products may aggravate it or dry it further.
The best eye makeup removers to use for dry skin will be oil-based and hydrating products that restore stripped oils and seal the pores. Avoid exfoliating varieties or removers with drying ingredients like alcohols or acetate. Removers with glycerin are often quite effective at rehydrating the skin. For severely dry skin, our top pick for dry skin is a great option, and for mildly dry skin, our premium remover is gentle and nourishing without being overly moisturizing.
Oily Skin
Oily skin often feels greasy or clogged and may look shiny. The pores on your skin might be large or have blackheads and whiteheads. Counterintuitively, the best way to care for oily skin is to ensure it is properly moisturized and that products balance excess oil without leaving the skin dry. Skin that has been excessively dried will respond by producing more oil to make up for what has been stripped by other products.
The best products for oily skin will clear excess oil and restore moisture to the skin to protect the skin barrier on the face. Our top pick for oily skin is a great cleanser, but options like Simple Face Wipes' oil balancing variety offers a more neutral solution for mildly oily skin.
Combination Skin
Combination skin is usually oily in the T-Zone—along the forehead and down the center of the face—and dry on other parts of the face. Combination skin with drastic differences may require two different makeup removers if the difference between face zones is extreme, but a neutral option like our Overall Best Remover is effective on mild combination skin.
Skin Care Routines
You don't have to follow an extensive beauty routine to keep your skin happy and healthy. Makeup remover is a useful way to cleanse the skin and lift makeup without scrubbing, but it can leave the skin feeling unbalanced without proper care. Most of the products in our list are gentle enough to be used without needing restorative care, but for highly reactive skin, extra care can go a long way towards more comfortable, healthy skin.
Several of our favorite products are part of a skin care line with a variety of complementary products that can be used together in a comprehensive skin care routine. The makeup removers from Tatcha, La Roche-Posay, and Neutrogena are all part of a line of products for a customized facial routine. Moisturizers, toners, cleansers, and face masks can all be part of a rejuvenating skin care routine and are a great way to invest in your skin health.

The Science of Makeup and Cosmetics
So, how exactly do makeup removers work? Even sweat and a shower have trouble touching high quality makeup, but a good remover wipes it away easily.
It all comes down to the science of cosmetics. We've come a long way from the days of war-paint and berry-derived skin dyes. Now, chemists and dermatologists work together to design makeup that keeps its color, stays beautiful, and doesn't damage the skin.
Cosmetic Chemistry
In the simplest terms, makeup is kind of like a magnet. Tiny particles are formulated from various chemicals and materials so that, when you place it on your face or eyelashes, the little particles bond to your skin. Like a magnet and metal, these particles prefer to hold onto your skin over other surfaces, like your brush or foam sponge.
Makeup remover is designed to break these bonds. When you wipe makeup remover over your makeup, it either attracts the makeup to itself or breaks the makeup down so that it can't hold onto your skin and is instead trapped in the liquid remover.
Most of the time, this process is carried out by emulsifying agents that dissolve the makeup particles. Purely oil-based removers are an alternative to this, but they struggle to break down makeup that isn't oil-based. Most cleansing oils are two-part removers, with both oil and an emulsifier.
Ingredients to Avoid
Unfortunately, some companies use harmful chemicals in their removers, simply because they are better at breaking down makeup. High intensity alcohols can excessively dry the skin, and products like mineral oil can cause break outs.
Other chemicals to watch out for include sodium lauryl sulfate, diazolidinyl urea, and benzalkonium chloride, all of which can irritate the skin or cause sensitivity.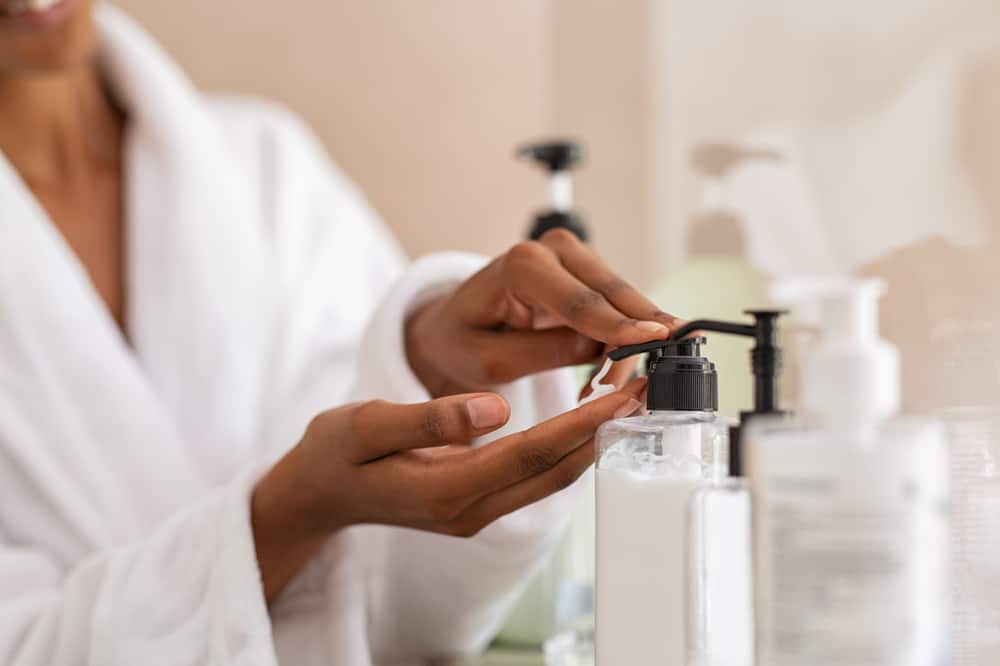 Taking Care of your Skin
Now that we've discussed eye makeup removers and what's in them, let's get into some great tips for keeping your skin happy and healthy.
Before You Get Started
Before you reach for your eyeshadow, it's important to prepare your skin for what's to come. Invest in a good skin primer and moisturizer to keep the surface of your skin safe from clogged pores, oily paints, and other impurities. Makeup is usually a fine dust or a thick cream, so moisturizing your face provides a protective barrier between your skin and your makeup.
Foundation and setting powder can easily get into the pores and cause breakouts, so moisturizing and priming the skin not only keeps your skin barrier intact but makes it easier to remove your makeup at the end of the day. It also helps keep your foundation from cracking and drying out as the day goes on.
Removing Your Eye Makeup
At the end of the day, you don't want to have to scrub your makeup off, and it's never fun to get out of the shower and see that you have raccoon eyes from your mascara. A makeup remover simplifies your cleanup and prevents scrubbing or pulling.
To use eye makeup remover, pour a little bit on a cotton ball or cotton round, and gently rest it on your face. Let it sit for 10 to 15 seconds, then swipe it away for maximum effect. If you're a regular makeup user, consider investing in reusable cloth remover rounds, for a soft, budget-friendly alternative.
Balancing Your Skin
We'd never recommend a product that harms your skin, but whenever you use any product on your face, you'll probably need to take care to balance your skin.
Exfoliating products can help remove excess oils and clean the pores. Hydrating creams and infused oils can help keep your skin looking youthful, and face washes can prevent acne. Aloe vera infused creams are a great way of cooling and soothing the skin to lock in moisture.
After using a product, if your face feels tight, consider using a moisturizer. If you feel greasy, or notice a residue, a cleanser might help you feel clean and fresh.
Skin Care Tips and Tricks
Skin care is an important part of feeling confident and comfortable. We've found that some of the simplest ways to feel better are by making small adjustments to your everyday routine. Here are a few of our favorite little changes that can produce big results.
Get a good night's sleep
Eat plenty of green vegetables
Stay hydrated
Wash your makeup brushes regularly
Wear sunscreen any time you plan to go outside, whether you go to the beach or just on a short walk.
Draw out painful, sub-surface acne by resting a hand-towel soaked with hot water on the skin's surface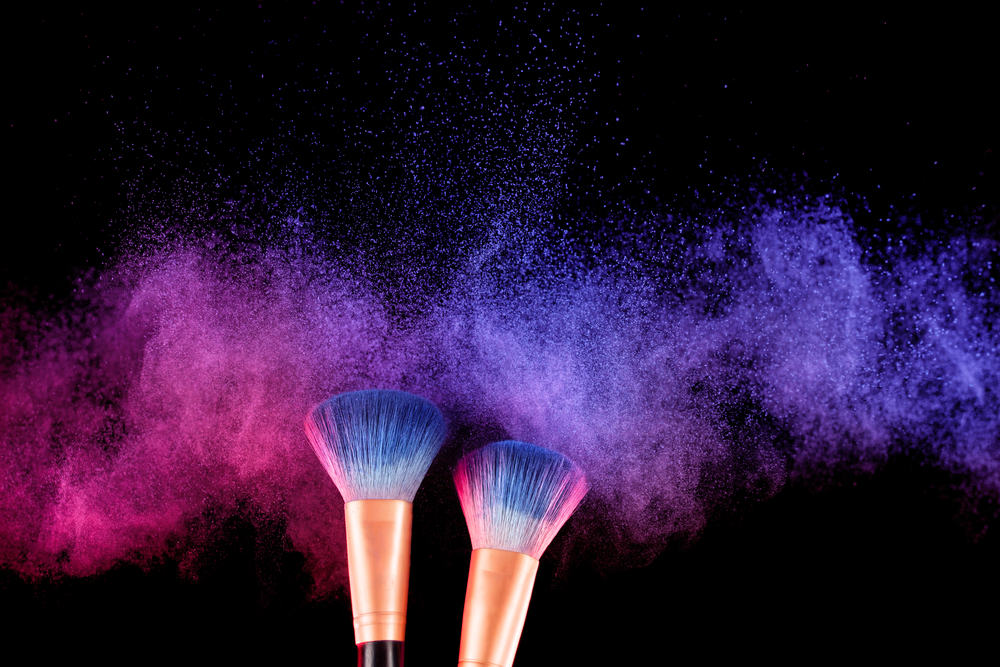 The Right Eye Makeup Remover Makes Skin Care Simple
Eye makeup removal may seem complicated, but it doesn't have to be. The endless variety of products and formulas means that there is no shortage of great options for any skin type and makeup user. It's never been easier to take care of your skin. We hope that this rundown of the top ten eye makeup removers can help you achieve your goal of happy and healthy skin.