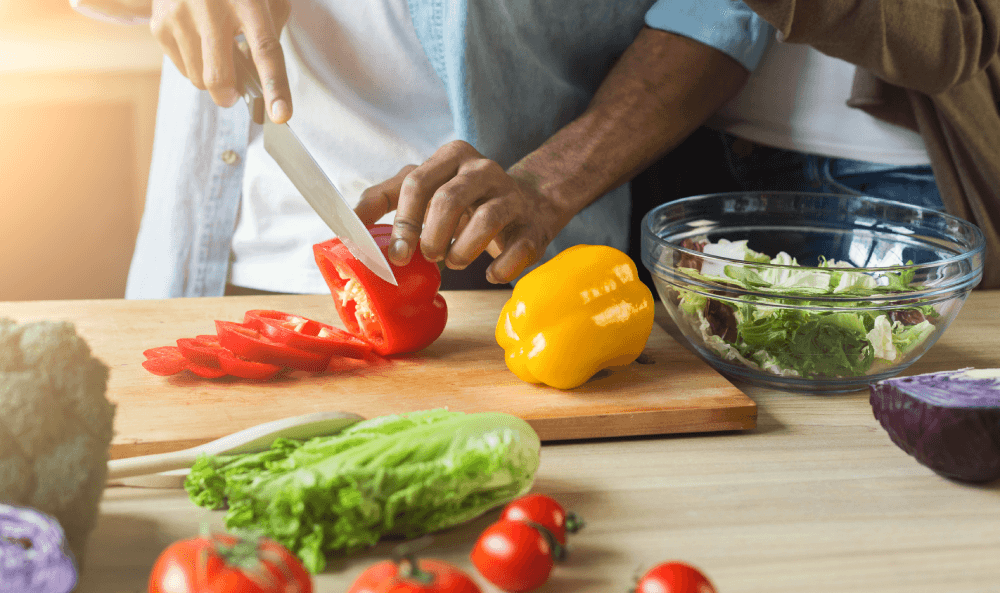 Eating keto friendly vegetables is considered a foundation of Atkins. In addition to protein and healthy natural fats, it is essential to consume certain veggies when living a low carb lifestyle; but eating too many veggies, especially starchy ones such as peas and potatoes, can undermine weight-loss and low carb efforts.
During the Atkins® induction phase, you'll want to consume 12g to 15g net carbs from vegetables each day. Studies on keto diets generally require participants to consume 20g to 50g of net carbs per day, so that means vegetables will account for approximately half of your total net carb intake. 1 We recommend that you focus on eating leafy salad greens and other non-starchy vegetables. These vegetables provide the body with the most antioxidant protection and fiber in combination with the fewest grams of carbs. When shopping or planning your meals, try to remember this keto rule of thumb: The best keto vegetables tend to grow above-ground. Vegetables that grow under the ground—generally, root veggies—are highest in starch.
Keto Vegetables List
Although the ultimate goal is to avoid veggies with a high starch content, it is permissible to consume vegetables that have a slightly higher-carb count. Here are some of our favorite keto approved vegetables, based on their net carbs per 100 gram serving size: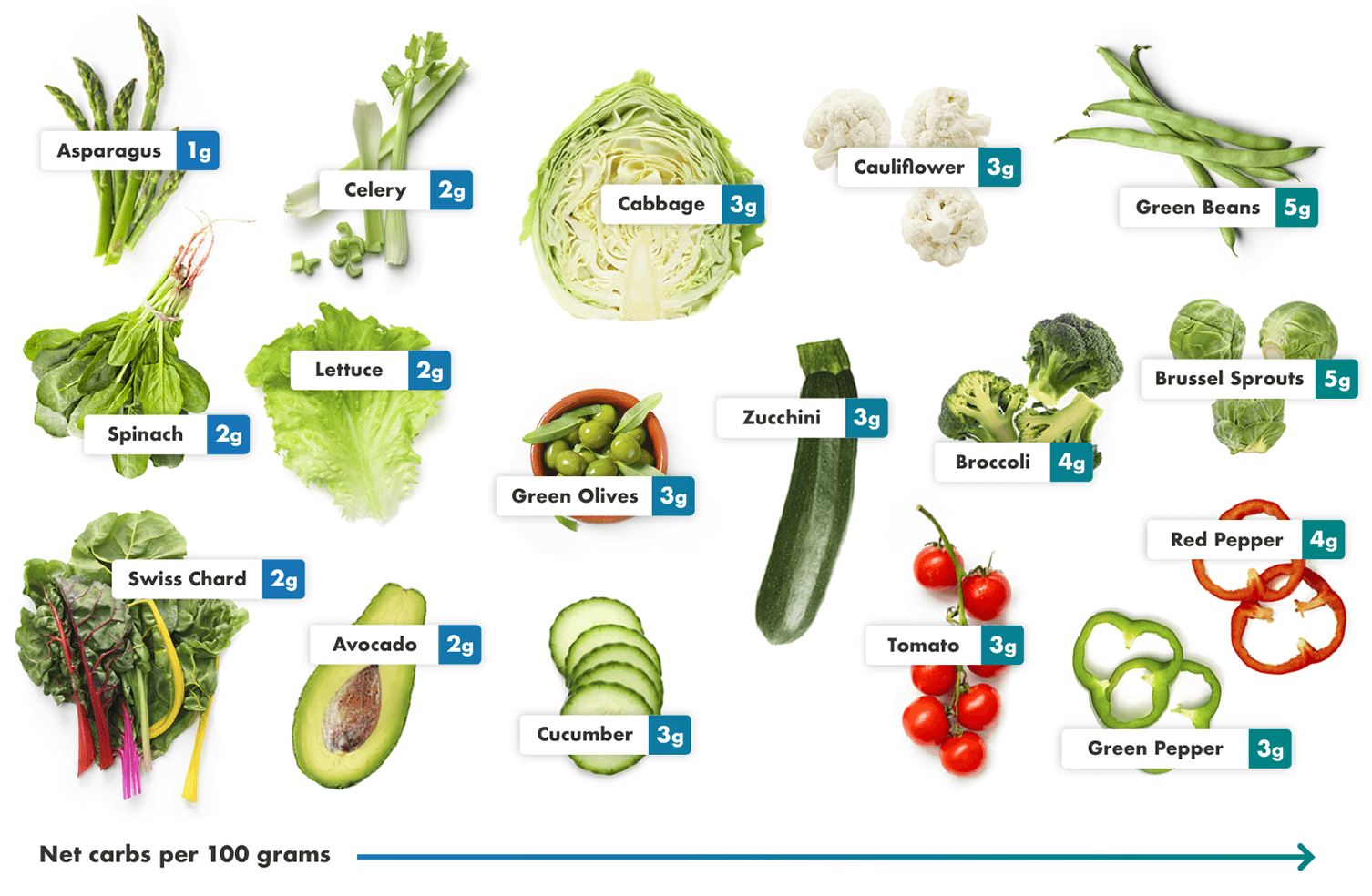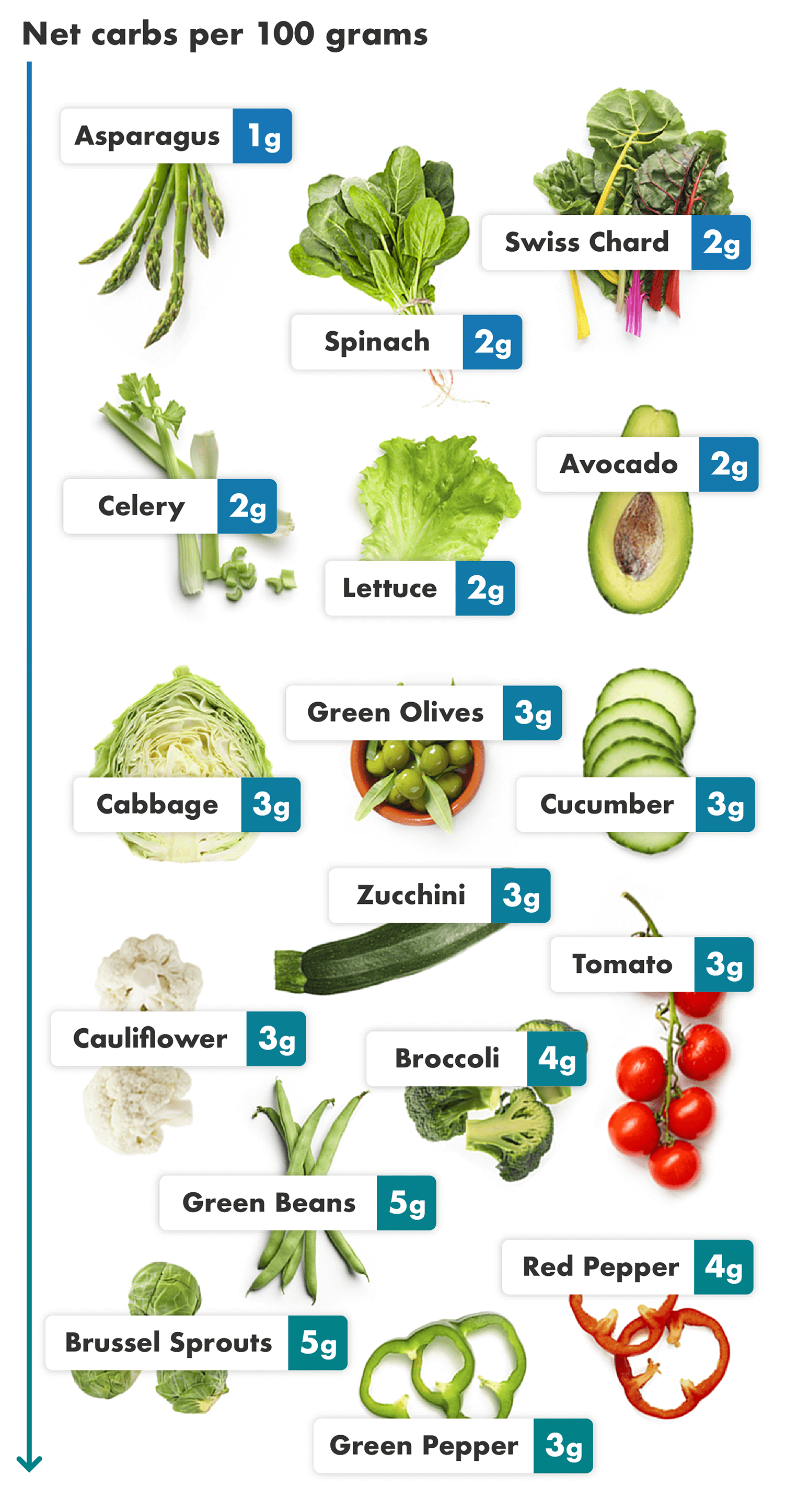 Asparagus: 1g
Spinach: 2g
Swiss Chard: 2g
Celery: 2g
Lettuce: 2g
Avocado (technically a fruit): 2g
Cabbage: 3g
Green Olives: 3g
Cucumber: 3g
Cauliflower: 3g
Zucchini: 3g
Tomato: 3g
Green Pepper: 3g
Red Pepper: 4g
Broccoli: 4g
Brussels Sprouts: 5g
Green Beans: 5g
Pro tip: You can find a full list of acceptable Atkins keto foods here. These ketogenic diet vegetables are the nutrient-dense, high-fiber foundation for the Atkins way of eating.
Vegetables to Avoid on Keto
Rarely do you ever hear someone tell you to avoid vegetables, but when it comes to a low carb keto lifestyle, some veggies can be more harmful than helpful to achieving your goals. As mentioned above, root vegetables typically carry more carbs, which is why they are considered one of the least keto friendly vegetables. Here are some of our most avoided veggies, based on their net carbs per 100 gram serving size: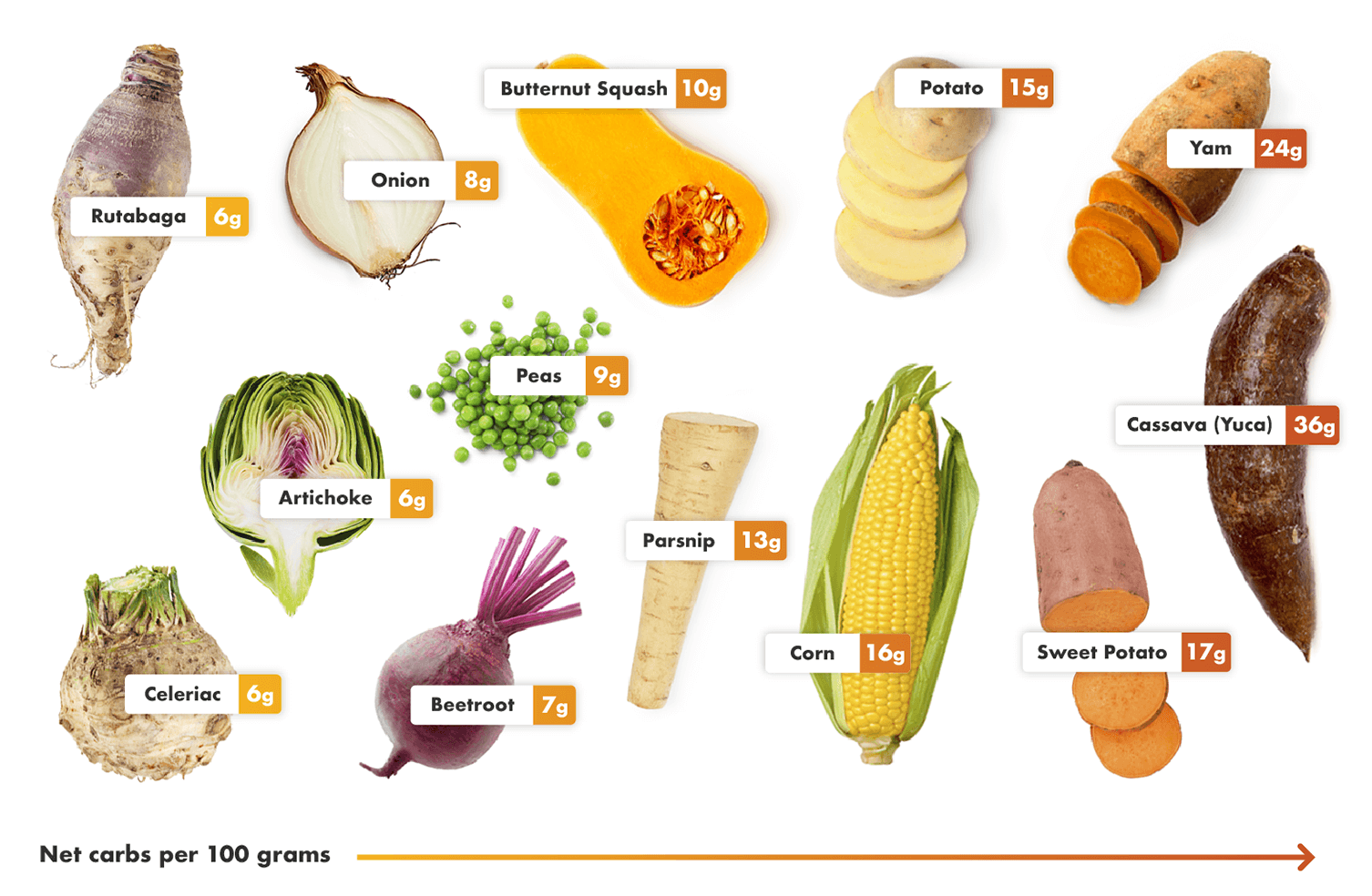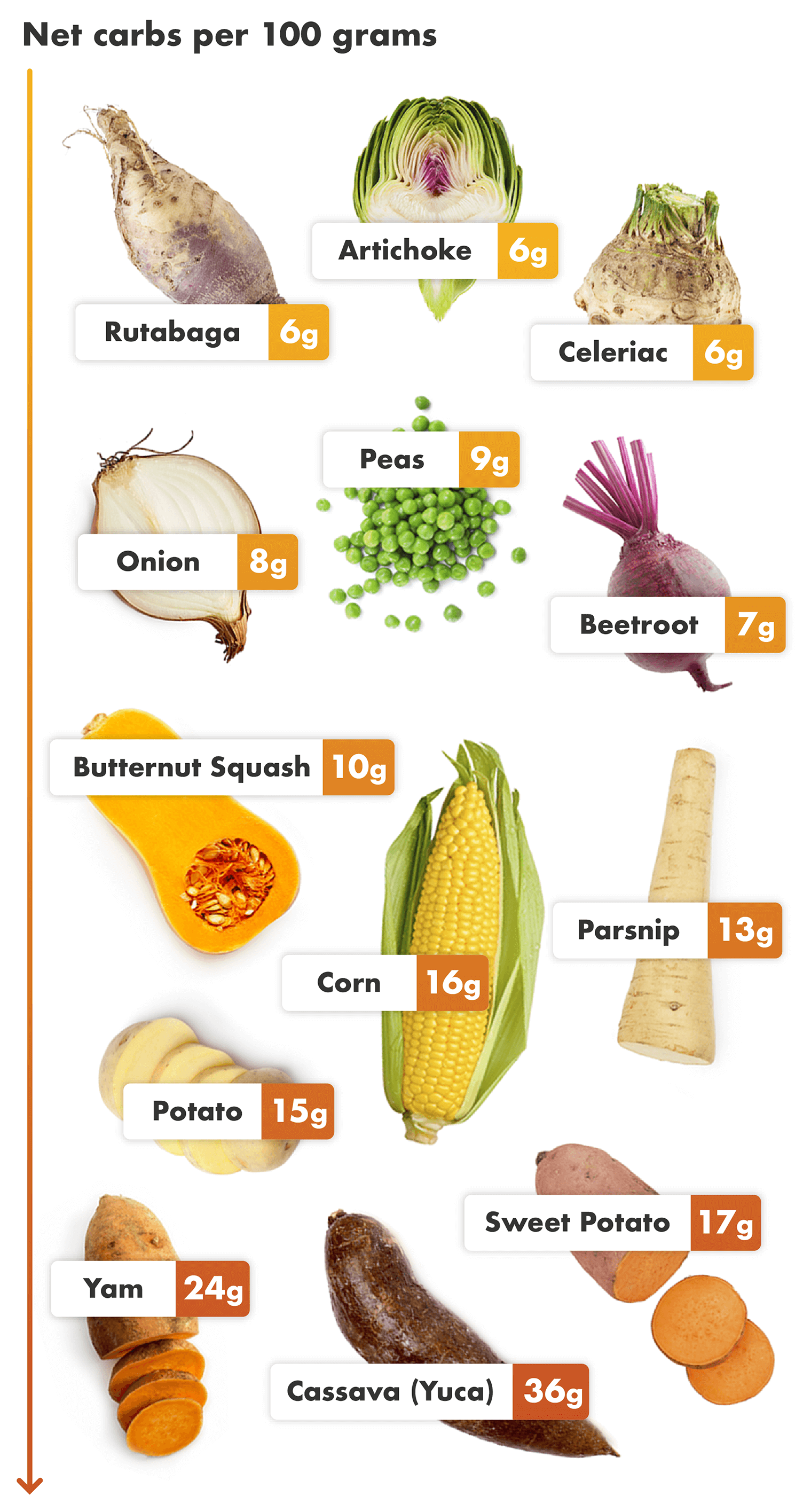 Rutabaga: 6g
Artichoke: 6g
Celeriac: 6g
Onion: 8g
Peas: 9g
Beetroot: 7g
Butternut Squash: 10g
Parsnip: 13g
Potato: 15g
Corn: 16g
Sweet Potato: 17g
Yam: 24g
Cassava (Yuca): 36g
Pro tip: Onions are often used as a seasoning and are typically not consumed in large amounts; however, it is best to avoid caramelized, grilled, or sautéed onions as they are more likely to be eaten in larger quantities.
Keto Friendly Vegetable Recipes
Looking for ways to prepare your keto approved vegetables? Here are a few of our favorites from the Atkins recipe database.
Keto Red Bell Pepper Filled with Creamy Eggs and Spinach. This stuffed pepper recipe is packed with keto friendly vegetables and is perfect for brunch—or anytime!
Keto Air Fryer Zucchini Fritters. A perfectly easy, super crunchy keto veggie side. If you don't have an air fryer, you can still make these in the oven, and they'll still be plenty crispy.
Keto Asparagus Wrapped in Chili Spiced Bacon. Whether you're serving these bacon wrapped asparagus as a side, appetizer, or even a light meal, you'll still be on track to your goals.
Keto Fresh Broccoli Salad. Serve up this creamy broccoli and bacon salad at picnics, BBQs, or any time you want a fresh, keto friendly crunch.
Keto Cauliflower Risotto. Perfect for a comforting, cozy dinner at home, this keto friendly take on the classic Italian dish uses riced cauliflower to keep carbs low.
The veggies you eat play a pivotal role in a successful low carb lifestyle, so try to keep this keto vegetable list in mind. For more keto guidance, check out our keto friendly food list and the foods you should avoid while on keto.
You can also explore our 1,600+ Atkins low carb recipes for
inspiration.