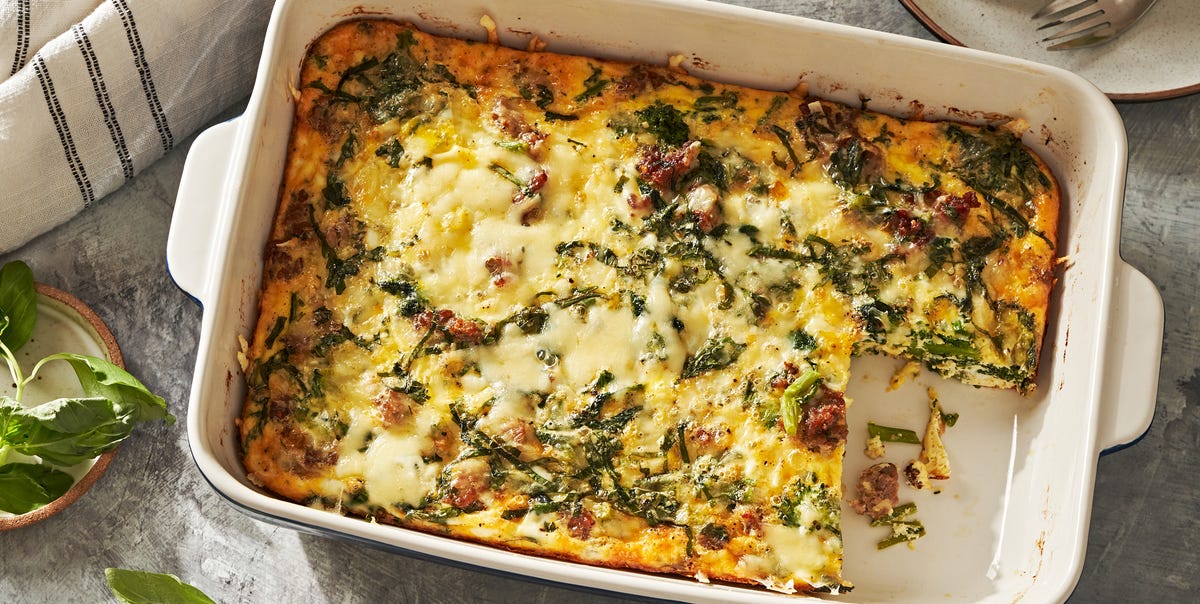 Whether you're just cutting down on gluten or are fully eating a low-carb diet, you know the importance of starting your day off right with a high protein meal. It may be cliché, but breakfast truly is the most important meal of the day! From cheesy egg dishes to breakfast casseroles, sweet baked goods to bite size , we've got something for you. Check out our list of 45+ low-carb breakfast recipes that will help you take on the day!
Nothing says breakfast like eggs, particularly if you're avoiding carbs, so we're putting them in everything. If you're baking for a crowd or just meal prepping for your week, you'll love our infinitely adaptable casseroles and frittatas— use them to highlight your fave veggies (or to use up leftovers in your fridge). If you've been missing your breakfast sandwich or burrito, don't fret! You can easily replace that bun or tortilla with eggs (or meat!)— wrap your breakfast in some tin foil for the full corner deli breakfast experience. Were you always a pastry for breakfast-type? We've got options for you too! From cinnamon rolls to waffles, we're sure you'll find something that'll tickle your sweet tooth. Sometimes the hardest part about following a particular diet is what to do when you're low on time. We've all been there, rushing and ending up eating something that doesn't quite fit with our initial dietary plan for the day. Avoid that disaster by making up a batch of one of our handheld breakfast options, like egg cups or eggy breakfast muffins. You can easily fridge or freeze them to have a quick grab and go option in the morning!
Want more low-carb, high protein inspiration? Check out our lists of keto breakfasts, lunches, and dinners!