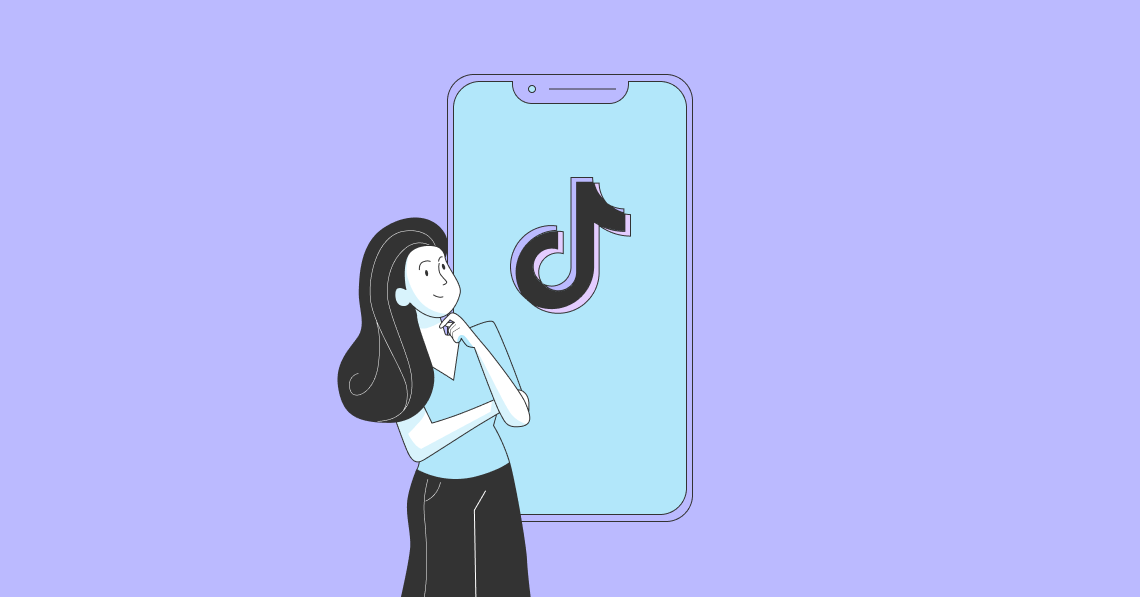 TikTok has been at the forefront of social media since it burst into the scene in the Western market in 2018. Its popularity further increased during the pandemic, becoming the most downloaded app in the first quarter of 2020. 
In 2021, TikTok announced that it surpassed 1 billion monthly users globally. Though it still has to catch up to Facebook in terms of users, the steady growth that the app has enjoyed over a shorter timeframe may indicate that it can soon catch up to the social media giants. 
The app's short-form video content allows users to view dozens of clips within a short amount of time. For creators, this also means that it is easier to create content for their TikTok channels than other platforms like Youtube. TikTok's additional features—such as filters and the popular duets—enable creators to make engaging and interactive content on the fly. 
Because of the app's ease of use and popularity, many social media influencers are on TikTok. Ranging from celebrities to ordinary people with extraordinary talents, TikTok boasts millions of users who upload unique and interesting content. It's no wonder that people can spend hours browsing through thousands of clips on the app. TikTok's algorithm also ensures that your feed gives you videos that you would definitely like, so it's easy to see how the app remains popular among its users.
Here's something about 100 of the best TikTok users, also known as TikTokers, that you absolutely need to follow this 2023 for the freshest, funniest, and most interesting video content:
100 Talented TikTok Creators To Follow in 2023:
50 Million+ Followers
Charli D'Amelio
@charlidamelio
The reigning queen of Tiktok, Charli D'Amelio became the most followed TikToker in 2020. Currently, she has almost 150 million followers on the platform. A competitive dancer before her social media career, Charli began posting her first dance videos in 2019.  
Khabane Lame
@khaby.lame
On the heels of the TikTok Queen is TikTok King Khabane Lame, who rose to fame on the app with his funny videos mocking so-called "life hacks" that complicated simple tasks. This Senegalese-Italian creator won the hearts of TikTok users with his actions and expressions.
Bella Poarch
@bellapoarch
Creator of the most liked video on TikTok, Bella Poarch is the third most followed TikTok user after Charli D'Amelio and Khabane Lame. She shot to fame when her video lip-syncing the song "M to the B (Soph Aspin Send" by Millie B went viral.
Addison Rae
@addisonre
Addison Rae became famous on TikTok for her dance videos. She has since landed the lead role on the Netflix film "He's All That," a gender-swapped remake of the classic 90s teen flick "She's All That."
Zach King
@zachking
Illusionist Zach King's videos of Internet magic helped propel him to a top spot on our list. His edited videos give the illusion of movie magic, or what he calls "digital sleight of hand." 
Kimberly Loaiza
@kimberly.loaiza
Kimberly Loaiza is a Mexican influencer and singer popular in social media. She is the 8th most followed TikTok user in the world. Her YouTube channel is also famous in Mexico, with 22 million subscribers.
Dixie D'Amelio
@dixiedamelio
Dixie D'Amelio began posting to TikTok shortly after her younger sister Charli became popular. While the sisters have been involved in some controversies, they remain popular on TikTok and enjoy celebrity status.
CZN Burak (Burak Özdemir)
@cznburak
Burak Özdemir is a Turkish chef who gained popularity with his cooking videos where he looks directly at the camera and smiles while preparing ingredients.
Loren Gray
@lorengray
Before Charli D'Amelio, singer Loren Gray was the most followed TikTok creator. She started posting on the app when she was only 13 years old. In August 2020, she was dethroned by D'Amelio as the most followed creator.
Spencer X
@spencerx
New York-based Spencer X is known for his amazing beatboxing skills on TikTok and YouTube, where he showcases his musical talent.
Michael Le
@justmaiko
Michael Le, known as JustMaiko on TikTok, is a dancer and choreographer. His dance videos generate millions of views, including one of him on an escalator.
Dominik
@domelipa
Twenty-year-old Domelipa is a popular Mexican TikToker, known for her lip syncing and choreography videos.
The secret behind many of these TikTok creators' success is third-party tools. For example, with a tool like Koji, you can create a high converting checkout funnel to help you sell directly via TikTok. 
30 Million+ Followers
YZ
@youneszarou
German Younes Zarou posts creative photography videos with behind-the-scenes clips, showing how they pull off each shot.
Kris HC
@kallmekris
Canadian TikToker KallMeKris posts humorous skits and lip-syncing videos.
Brent Rivera
@brentrivera
Brent Rivera was already famous on Vine, and has carried over his fame to TikTok where he posts pranks, skits, and dance videos.
Junya
@junya1gou
Japanese TikTok creator Junya is known for his outrageous food experiments, balloon popping tricks, and other funny content.
WonJeong
@ox_zung
Korean TikToker WonJeong shows his funny and adorable side on the app. He's also a fitness expert, and sometimes shows off his mega toned and buff body.
Avani
@avani
Nineteen-year-old Avani Gregg posts makeup and style videos on her TikTok, earning her 40 million followers on the app. 
Joe
@joealbanese
Joe Albanese is a break dancer, posting videos of his dance talent on TikTok.
Jojo Siwa
@itsjojosiwa
Famous YouTuber Jojo Siwa is also a popular creator on TikTok, where she posts short performance and dance clips.
ROD
@elrodcontreras
Rodrigo Contreras is a Mexican athlete and social media star who garnered fame on TikTok with his lip sync and dance videos.
ХОМЯК
@homm9k
Kazakhstani Alina Kim posts funny clips, lip sync videos, and other performance snippets with her instantly recognizable pink hair.
Carlos Feria
@carlosferiag
Colombian Carlos Feria is known for posting funny skits and lip sync videos, mostly with his family.
Scott
@scottsreality
Scott is a Dutch TikToker who posts creative, unusual experiment videos.
Ondy Mikula
@ondymikula
The Czech Republic's most famous TikToker is Ondy Mikula. The 20-year-old creator uploads funny and creative short videos, usually through a smartphone.
James Charles
@jamescharles
Makeup artist James Charles is already a huge celebrity on YouTube, but he also has quite a following on TikTok. His videos showcase his fashion, makeup transitions, and singing talent, and he also participates in popular trends.
Liza Anokhina
@anokhinalz
One of the youngest top TikTok creators on our list, Liza Anokhina is a 14-year-old Russian teenager and model. Like many TikTokers, she mainly uploads lip sync and dance videos.
Baby Ariel
@babyariel
Famous social media personality Baby Ariel got her start on Musical.ly. Bagging a major role in Disney Channel's film Z-O-M-B-I-E-S 2, she is now also a recording artist with several singles under her belt.
Gil Croes
@gilmhercroes
Gilmher Croes is dedicated to making people laugh on his TikTok channel. The 28-year-old Aruban social media star is famous for his wacky facial expressions and dance videos.
Lucas and Marcus Dobre
@dobretwins
Twins Lucas and Marcus Dobre rose to fame on TikTok with their dance, prank, and skit videos, starting on Vine and finding more success on TikTok. 
MrBeast
@mrbeast
Unlike many other TikTokers, MrBeast (real name Jimmy Donaldson) is known for doing expensive stunts and challenges coupled with big prizes and philanthropy.
Tuzelity
@tuzelitydance
Russian dancer Tuzelity rose to prominence on TikTok with his amazing breakdancing skills and short tutorial clips.
Noah Beck
@noahbeck
Soccer player Noah Beck became a TikTok sensation during the pandemic, posting dance videos and skits. He is in a relationship with fellow TikTok creator Dixie D'Amelio.
Huddy
@huddy
Chase Hudson is one of the co-founders of Hype House. Known as Huddy or Lil Huddy in his other social media accounts, he is an American singer and musician.
Mia K.
@miakhalifa
Lebanese-American star Mia Khalifa posts humorous skits about daily life. After a harrowing past experience in the adult film industry, she has now found new life as a TikTok star.
Wigofellas
@wigofellas
Wigofellas is famous for his prank videos and clips of things gone wrong. Despite being a popular TikTok creator, not much is known about his real name or his personal life.
Kyle Thomas
@kylethomas
Kyle Thomas is a British TikTok creator. He posts mainly lip sync videos and recently has been collaborating with fellow influencer Kate Shumskaya.
Karol G
@karolg
Colombian singer and reggae artist Karol G is a famous Latina artist who also found success in TikTok.
XO Team
@xoteam
The XO Team is a group of TikTok creators who perform choreographed dances. They are made up of six women and three men—Kika Kim, Elsarca, Kristi Krime, Alisha Kone, Maks Nemcev, Dasha Dzhakeli, Badbaarbie, and Eva Miller.
Stokes Twins (Alan and Alex Stokes)
@stokestwins
Chinese-American twins Alan and Alex are popular for posting prank videos on their TikTok channel. In 2019, they pulled a prank that resulted in misdemeanor charges. They pleaded guilty and were sentenced to community service and probation.
Brianda
@briandadeyanara
Brianda Deyanara is another Mexican influencer who rose to fame on TikTok with her dance and lip sync videos.
Niana Guerrero
@nianaguerrero
Niana Guerrero is a Filipino dancer who gained popularity with her dance videos, together with her siblings Ranz and Natalia.
Virginia
@virginiafonseca
American TikToker Virginia Fonseca posts Spanish language clips on her account, ranging from dance videos, lip sync videos, Q&As, and random clips of her everyday life.
Q Park
@qpark
Comedian Q Park started out as an investment banker, but his success on Vine—and subsequently on TikTok—led him to a career in social media comedy. 
10+ Million Followers
Darian Rojas
Source: tiktok.com
Mexican TikToker Darian Rojas is a member of the Privé Crew, a TikTok collective. She won the 2020 Challenger of the Year award at the Kids' Choice Awards in Mexico and has a relatively large following on her other social media accounts, which showcase her knack for fashion, travel, and adventure.
Kira Kosarin
@kirakosarin
Singer, actress, and multi-instrumentalist Kira Nicole Kosarin is known for her role as Phoebe Thunderman in the Nickelodeon series The Thundermans. She released her first EP in 2019 and recently became a recording artist under Republic Records, launching her first single, "Mood Ring." 
Kika Kim
@kikakiim
TikToker Kristina Kika Kim is famous for her lip sync and dance videos on the platform. Aside from being a famous TikToker, the Kazakhstan-born Kim is also a model and a social media influencer. 
Liza Koshy
Source: tiktok.com
YouTube star Liza Koshy rose to fame in 2013 because of her funny Vines. When the platform shut down, the actress, dancer, and TV host moved to YouTube, where she gained a huge following. Her YouTube channel, Liza Koshy, currently has approximately 17 million subscribers. 
Savannah LaBrant
@savv.labrant
Savannah LaBrant holds many titles under her belt, including being a popular fashion blogger, author, professional photographer, and influencer. She documents her family life on social media and posts family and dance videos on her social media platforms.
Kody Antle
@kodyantle
Kody Antle, dubbed as a "real-life Tarzan," is an animal trainer and has been featured in the Netflix docu-series "Tiger King." He is the son of Doc Antle, a famous tiger trainer and founder of the Myrtle Beach Safari and The Institute for Greatly Endangered and Rare Species (T.I.G.E.R.S.). 
Benji Krol
@benjikrol
Social media personality Benji Krol started his career on the now-defunct Musical.ly, which was eventually acquired by TikTok. He eventually gained a huge following on TikTok thanks to his lip sync and dance videos. Krol currently resides in Madrid and has enrolled in a private college there. 
Nisha Guragain
@nishaguragain
Nisha Guragain is one of India's most famous social media personalities and is famous for her modeling and lip sync videos. She rose to fame on TikTok thanks to her lip-syncing to Mujhe Yaad Hai Aata Teri. Aside from her huge following on TikTok, she also has 6.9 million followers on Instagram. 
Topper Guild
@topperguild
American social media personality Topper Guild became famous on TikTok when he published a viral video shortly after joining the platform. He's known for his offbeat comedy and prank videos.  
Naim Darrechi
@naimdarrechi
Spanish TikToker Naim Darrechi posts music and dance videos on the platform. Last year, he came under fire for making a controversial claim, which could potentially land him in jail.  
Tirullipa
@tirullipa
Brazilian comedian Tirullipa is not only famous on TikTok, but  he also has a huge following on YouTube, with almost 5 million subscribers. He's also on Instagram and Spotify, where he has more than 17,000 monthly followers. 
Lele Pons
@lelepons
Venezuelan-American singer and actress Eleonora Pons Maronese, also known as Lele Pons, is huge on social media. She has more than 47 million followers on Instagram, over 4 million monthly listeners on Spotify, and her YouTube Channel (Lele Pons) has more than 17 million subscribers. Aside from being a singer and actress, she's also a dancer, author, model, and content creator.
JeanCarlo Leon
@jashlem
JeanCarlo Leon is a fitness and lifestyle influencer who has amassed a sizable social media following, with more than 6 million followers on Instagram and 5.19 million subscribers on YouTube. He formed the TikTok group Privé Crew with fellow TikTok stars Darian Rojas and Naim Darrechi. 
David Dobrik
@daviddobrik
David Dobrik is a famous and controversial social media personality. He's the leader of the Vlog Squad, a YouTube collective that features comedy and prank videos. Since 2017, he's been embroiled in several  controversies.  
Jay Croes
@jaydencroes
Aruban TikTok star Jayden Croes posts videos featuring comedic characters on the platform and got his start by posting on Musical.ly (now TikTok). Together with his brother Gilhmer, another one of TikTok's rising stars, they run the famous YouTube channel CroesBros.
Dina
@dina
Dina Saeva is a Russian TikTok star who uploads lip sync, dancing, and modeling videos. She has collaborated on duets with British TikToker Kyle Thomas. 
Jacob Sartorius
@jacobsartorius
Jacob Sartorius is an immensely popular social media personality with millions of followers on different social media platforms. The actor-entertainer posts a variety of videos on TikTok, ranging from lifestyle clips to his songwriting process.  
Christoph
@condsty
Christoph is known for his art and drawing videos on TikTok. His clips usually feature different drawing processes, such as how to draw illusions and images using visual prompts and the occasional life hacks.
Mackenzie Ziegler
@mackenzieziegler
Dancer, singer, and actress Mackenzie Ziegler rose to fame when she was featured in the reality TV show "Dance Moms," along with her older sister Maddie Ziegler. On TikTok, she posts dance videos as well as snippets of her daily life. 
Lauren Godwin
@laurengodwin
TikTok creator Lauren Godwin is famous for posting short comedy videos and sketches on the platform. She got her start on Musical.ly by publishing comedic shorts.
Jason Coffee
@jasoncoffee
Social media influencer Jason Coffee got his start on Vine. He moved to Musical.ly (now TikTok) when the platform shut down and has since been sharing funny clips featuring his family. 
Salice Rose
@officialsalicerose
Salice Rose is famous for sharing her life on her social media platforms. Aside from slice-of-life clips, she also posts comedic videos on TikTok.
Cameron Dallas
@camerondallas
Cameron Alexander Dallas is an American actor and musician who began his social media career on Vine. He has since ventured into musical theater, fashion, and modeling. 
Abby Roberts
@abbyroberts
Abby Roberts is one of TikTok's most famous beauty creators. The British TikToker and makeup artist has worked with celebrities like Liam Payne and Yungblud and has worked on campaigns for some of the world's biggest beauty brands, including L'Oréal and Anastasia Beverly Hills. 
Twin Melody (Paula and Aitana Etxeberria)
@twinmelody
Spanish twin singers Paula and Aitana are behind Twin Melody. The twins have a Disney Channel show called "BIA."
Sarah Magusara
@sarahmagusara
Sarah Magusara is an Australian social media personality famous for her comedy, dance, and lip sync videos. She started her journey on TikTok in 2016, where she posted a video of herself lip-synching to a song. 
Demi Bagby
@demibagby
Demi Bagby is a famous CrossFit athlete and trainer who ventured into social media with her fitness and body-building content. She had an accident at 14, which broke her back, but she was able to overcome this immense challenge and has since used her social media channels to spread positivity by sharing her journey.  
Sienna Mae
@siennamae
Dancer and singer Sienna Mae Gomez has two equally popular TikTok channels. She's well-known for posting body positivity videos. 
Maverick Baker
@maverickbaker
Maverick Baker shot to internet stardom thanks to his lip sync and dance videos on social media. Together with his brother, Cash Baker, they're known as the musical duo Cash and Maverick. 
The Rybka Twins (Sam and Teagan)
@rybkatwinsofficial
The Rybka Twins, Sam and Teagan, are famous Australian dancers and acrobats. The twins have written a book called "Twinning It."
Sebastian Bails
@sebastianbails
Sebastian Bails is famous for his funny lip sync videos and has collaborated with other influencers, including Danielle Cohn and Jazmine Lucero. He was previously in a relationship with another TikTok star, Lauren Godwin.
Dominic Toliver
Source: tiktok.com
Dominic Toliver blends comedy and music into his videos. In his TikTok video, he shares clips featuring his family. He was one of the finalists for TikToker of the Year in the 11th Shorty Awards.
Ona
@real.ona
Hailey Orona shares fashion, dance, and lip sync videos on TikTok. Aside from TikTok, Orona also has a YouTube channel (Real Ona).
Amanda Cerny
@amandacerny
Amanda Rachelle Cerny is an American actress, model, health and wellness enthusiast, and content creator who uses social media as a storytelling tool to help spread positivity. She's been dubbed as the "Queen of Snapchat," which she uses to share snippets of her lifestyle.
Casey Simpson
@caseysimpson
Actor Casey Simpson, who starred in the Nickelodeon comedy series Nicky, Ricky, Dicky & Dawn, is on TikTok, where he has amassed 9 million fans. He's famous for his lip sync videos on the platform.
Jayden Bartels
@jaydenbartels
Singer, songwriter, model, and actress Jayden Isabel Bartels posts dance videos on TikTok. She started posting videos on Musical.ly and has since been known for her impressive dance moves. She was a finalist in the Muser category in the 10th Short Awards.
Wisdom Kaye
@wisdm8
Need some style inspiration? Then you should definitely check out Wisdom Kaye, known as one of TikTok's most stylish creators. Kaye has since amassed millions of followers on the platform and has even been signed to IMG Models. He has worked with some of the world's biggest fashion brands, including Dior, Fendi, and Coach.
Carson Lueders
@carsonlueders
20-year-old singer, songwriter, and musician Carson Lueders shares a variety of clips on TikTok, ranging from glimpses of his daily life (featuring his family) and duets to music videos.
Jessica Woo
@sulheejessica
If you're hungry for some foodspiration, you should check out Jessica Woo's TikTok, where she shares how she turns ordinary bento box meals for her kids into works of art. She features a variety of dishes from pasta to pancakes, which she tops off with cute little notes for her kids.  
Signa Mae
@sig
Signa Mae O'Keefe's popularity on TikTok can be attributed to her lip sync videos. She also uses the platform to share positive messages that are geared toward helping her followers overcome life's challenges.
OurFire
@ourfire
Chris and Sharla, who go by OurFire, are famous for sharing couple-themed videos on TikTok. Their account has earned several badges, including top talent and style guru. The couple, who met on Tinder, started their social media journey two years after their meeting. 
The Nava Rose
@the.navarose
If fashion, style, and home décor are right up your alley, then the Nava Rose's TikTok account is one to look out for. She has a ton of style ideas, DIY projects, and lip sync videos on TikTok and her YouTube channel (Nava Rose) also features her vlogs and styling tips. 
Tabitha Brown
@iamtabithabrown
Actress and social media personality Tabitha Brown is one of TikTok's top creators since 2020. The vegan influencer shares a glimpse into her lifestyle, and she often posts vegan versions of recipes, such as her take on a pepperoni grilled cheese sandwich.  
Team2Moms
@team2moms
Denise and Ebony of Team2Moms use TikTok as an avenue to destigmatize myths surrounding LGBTQ+ parenting by sharing their stories and reaching out to and inspiring followers to be their authentic selves. Team2Moms was a finalist in the 12th Shorty Awards under the Parenting, Family, and Kids category.
Lani Baker Randol
@lani.baker
Model and actress Lani Baker Randol is no stranger to fame. She's the sister of social media personalities Cash Baker and Maverick Baker, whom she collaborates with on TikTok. 
Rickey Thompson
Source: tiktok.com
Rickey Thompson is famous for his comedic videos on social media platforms like Vine, YouTube, Instagram, and TikTok. His other ventures include working with global brands, such as Coach and MAC Cosmetics, and celebrities like Katy Perry.
Zahra
@zahra
Zahra is a Muslim influencer known for her entertaining and wholesome TikTok videos. On her TikTok, she gives fans a glimpse of her daily life through her stories, in which she covers topics like wearing her hijab, university life, fashion, and makeup.  
Cost n' Mayor (Austin and Marideth Telenko)
@cost_n_mayor
Cost n' Mayor are Austin and Marideth Telenko, both professional choreographers and dancers. They've choreographed and danced in campaigns for major companies like Disney, Target, and Amazon Prime. On TikTok, they became famous for posting clips of them dancing to popular songs using trending choreography.
The McFarlands
@the.mcfarlands
One of the most famous families on TikTok, with plenty of viral clips, the McFarlands ooze comedy and charm. Dad Dan McFarland is a certified TikTok star who frequently stars in skits mostly shot in their home. But dad isn't the only one who's become famous on the platform. Sons Colin and Dylan and the rest of the family are also enjoying the love of their fans. 
Bretman Rock
@bretmanrock
Social media influencer and popular makeup artist Bretman Rock has taken over TikTok, where the charismatic icon shares a variety of clips ranging from duets and POVs to lifestyle. 
Rising TikTok Stars
Emily Mariko
@emilymariko
Emily Mariko's TikTok has got you covered if you're on the hunt for food, lifestyle, and fashion ideas. One of the platform's rising stars, the 30-year-old influencer makes simple yet engaging videos on a variety of topics. She's known for whipping up healthy meals that don't scrimp on flavor.  
Lonnie Marts
@lonnieiiv
Known for putting a witty, comedic spin on a range of topics, like the creation, where Lonnie impersonates both God and Gabriel, Lonnie Marts is quickly becoming one of the TikTok stars to watch out for. Want a quick-pick-me-up? Check out Lonnie's hilarious TikTok videos.
Luis Cervantes
@luismcervantes_
Want to meet your health and fitness goals this year? Then tune in to Luis Cervantes's TikTok. The dance cardio instructor, choreographer, and personal trainer became viral on TikTok for doing choreography on a Gwen Stefani-Beyoncé mashup. 
Tiffany Yu
@imtiffanyyu
Tiffany Yu is a disability advocate who shares day-in-the-life and educational videos on TikTok. She uses the platform to educate her followers on disability issues and the challenges faced by persons with disabilities. Outside of the platform, she's a virtual and in-person speaker who tackles issues on disability and mental health. 
Otis Jones
@slntwrlddd
Atlanta-based Otis Jones uses TikTok as a platform to educate followers on deaf culture and to teach them about American Sign Language by sharing helpful tips.
Chris Grave
@chrisgrave
Chris Grave is a British luxury lifestyle influencer, model, and makeup artist. He is famous for his makeup reels on Instagram and, of course, his parodies and lip syncs on TikTok. 
Profile: Makeup artist